Heute habe ich eine Frage aus der Rubrik Grundwissen für Anfänger.
Today we'll deal with basics for beginners.
Die Frage lautet: Ich habe die Reihe fertig, wie wende ich und fange wieder an?
The question is: I finished a row, how do I turn and re-start again?
So sieht das Strickstück am Ende der Reihe aus.
That's how it looks at the end of a row.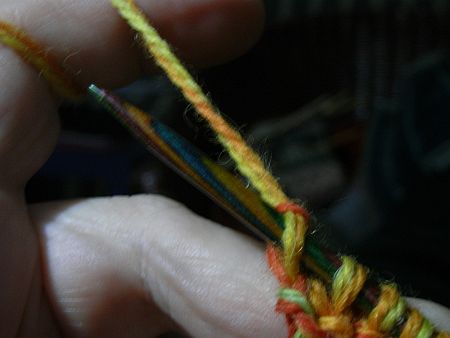 Wendet man nun das Strickstück, liegen auf einmal zwei komische Schlaufen da, mit denen man nichts so richtig anfangen kann. Ist nicht schlimm, der Kniff ist ganz einfach.
If you turn the thing, there are two somewhat queer loops, with which you somehow can't do anything. Never mind, the trick is quite simple.
Den Faden unter der Nadelspitze vorbei hinter die linke Nadel schieben.
Put the strand behind the left needle going under the needlepoint.
Mit der rechten Nadel in die erste Nadel stechen.
Insert the right needle into the first stitch.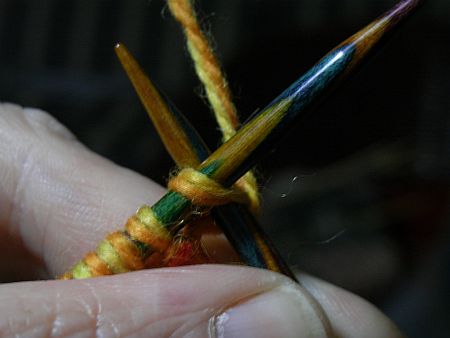 Die Masche ohne zu stricken auf die rechte Nadel nehmen. Man kann sie natürlich auch stricken. Bei kraus rechts, also nur rechten Maschen, finde ich allerdings Abheben besser, weil dann der Rand glatter wird.
Take the stitch onto the right needle without knitting it.
Of course you can also knit it. However, with garter stitch i.e. all knit I like slippping the first stitch, because the edge lies flat then.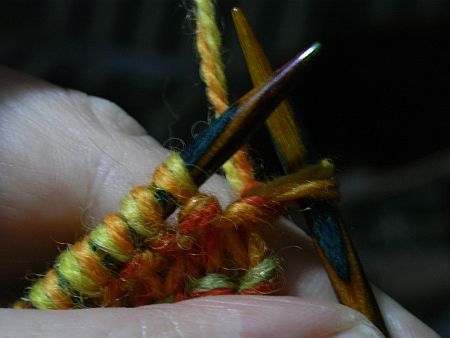 Die rechte Nadel durch die zweite Masche ziehen und Faden holen.
Put the right needle through the second stitch and catch the strand.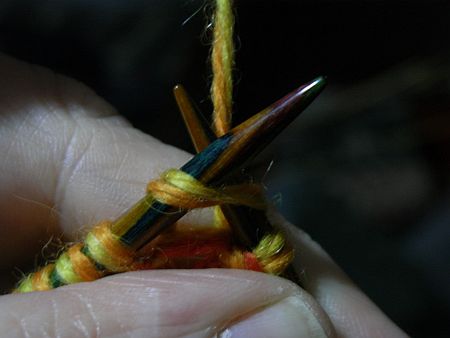 Und den Faden durchziehen. |
Pull the strand through the stitch.
Danach einfach wieder weiterstricken. |
Knit on from here as you learnt it
. :-)